My name is Takahashi Fumiki. Noveilst and Web developer specialized in WordPress.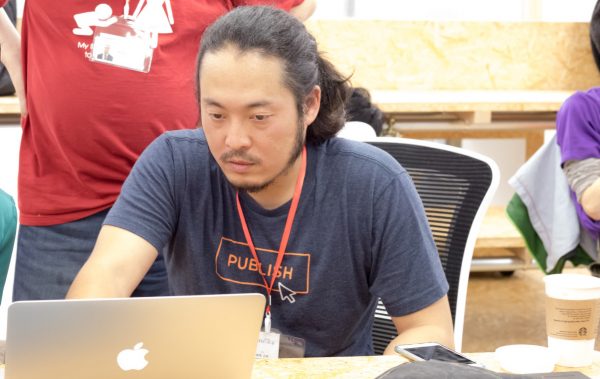 Bio
I was born in Chiba, Japan at 16th August 1979. While studying at the University of Tokyo, I got the prize of novel contest organized by Gentosha Inc. My first book "Tochugesha" had been published.
After graduation, I made my life with part time job and keep writing novels. At 2007, I won another contest organized by Shinchosha. But my works weren't published and I felt somehow disappointed.
I decide to publish my book by myself. I started learning web programming and, in 2008, fell in love with WordPress. I made ePub converter with PHP and integrated it to WordPress. Now I can publish ePubs via WordPress. I hope my site hametuha.com could be a e-publishing agency, but it's challenging :)
Currently I'm making life of me and my family as CEO of digital agency. Most of profit are from WordPress. My life is made from Writing, WordPress and DIY.
Misc
Have 3 children and elder 2 of them are twins.
Have practiced Judo for >10years.
I can communicate with English and French, but not on business situation.
Love foreign novels. In Japan, many books in foreign languages are translated. My favorite authors are Ōe Kenzaburō and Micheal Hoellebecq.
I was lead organizer of WordCamp Tokyo 2016.
I made an e-ticket plugin for WordPress and it led a Japanese company to accomplishing IPO and finally they valued ¥10 billion. I was proud of it, but I can't say detail because of NDA ;(
I have built houses by myself since 2009 in country side.
Okay, that's it. Feel free to contact me. Thank you so much for reading.
フォローしてください
ここで会ったのもなにかの縁。
高橋文樹.comの最新情報を見逃さないためにもフォローをお願いします。
めったに送らないメルマガもあります。
Facebookでは、ブログやtwitterでは書き辛いちょっとレアな情報を提供しています。
Twitterでは日々の感じたことなどをつぶやいています。 メンションも気軽に飛ばしてください。
Youtuberになることを目指し、「ふみちゃんねる」を開設しました。 購読お願いします。